ANTHONY DOUKAS INTERVIEW (International Transport Journal 45-46 2019 Ports & Shipping)
21 November 2019
Posted by:

Global Maritime Enterprises

Category:

Press Release
International Transport Journal 45-46 2019 Ports & Shipping
Global Maritime Group set to expand services in its network
New master plan in the pipeline
Anthony Doukas, founder / owner of the Global Maritime Group of companies, a specialist for maritime container exports from Greece, recently told Christian Doepgen about his latest plans.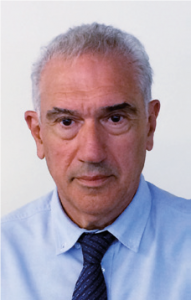 You've been active for decades now, Mr Doukas. What's changed compared to when you first started?
After establishing the Global Mari­time Agency in the late 1980s our main business activities were in international forwarding, focusing mainly on con­tainerised Greek exports to destinations worldwide. We specialised in Greek ex­ports to Europe and Mediterranean destinations and then later to various overseas destinations too. Together with the above priority and thanks to customers and partners' confidence in us, we later added our road freight and airfreight divisions and became an Iata agent.
How did business develop?
During the next decade, we represent­ed Kawasaki Kisen Kaisha PCC as a port agent for marketing and K-Line's regional business. K-Line made Piraeus its hub for services to destinations in the Mediterra­nean and Black Seas. We've also strength­ened our car carrier business, as well as intermodal and full logistics services, over the last five years.
Have you added new (intermodal) services?
Under a logistics, strategy started in 2010 and a new venture with P & O FM we in­troduced intermodal services in Greece as well as from Greece to Italy, Northern Europe, France, and the United Kingdom. We also offer connections from Italian ports to Belgium, Holland, France, the UK and recently added options to East­ern Europe and Scandinavia too.
Which regions are interesting to expand your network?
We're working on a new master plan to add a number of combined services to our overall business network, with the priority placed on the transportation of cars, intermodal services, and smart European logistics connections.
The Greek market is improving, isn't it?
Indeed. But all parties concerned, in­cluding financial institutions, have to work together to further develop the port infrastructure, and to improve transport links to and from our agricultural and industrial centers.
What's on your agenda for 2020?
Our business agenda for 2020 focuses on two basic axes. The first is to maintain and strengthen our present business port­folio in the marketplace, and the second one is to realise our master plan, which will see a steady improvement in the es­sential financial and commercial value the Global Maritime Agency represents for our group.
How does Global Maritime Enterprises benefit from participation in the EU's 'Green C Ports' project?
Global Maritime Enterprises is proud of its participation in a very important Europe­an Union undertaking, namely the Green and Connected Ports project ('Green C Ports'), which is co-financed by the Euro­pean Union.The undertaking aims to offer a suitable over-all array of digitalisation tools and techniques to support ports' envi­ronmental sus­tainability and the performance of port operations in the TEN-T's core network. This will reduce the overall im­pact of port operations on cities, monitor emissions from ports and vessels, optimise cargo handling in core ports and simultaneously also facilitate cargo operations in and out of core ports. The project's overall aim is to promote green, viable, attractive and efficient sea-based transport connections that are integrated into the transport chain. Its implementa­tion will help to rebalance the European Union's transport system and make it more sustainable.