EU Projects Participation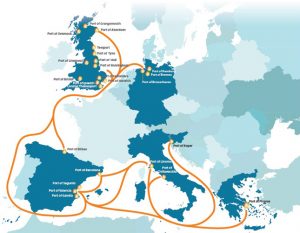 Global Maritime Enterprises Ltd participate in the following TEN-T successful projects:
1. MOS4MOS
This project aims to provide the proper combination of measures for ports, in order to become more efficient gateways for Short Sea Shipping (SSS freight).
The main approaches towards creating more efficient gateways for SSS freight, focus on two main types of traffic: Ro-ro traffic and container traffic. In particular, we distinguish 3 scenarios that differ in customs control requirements:
1. Ro-Ro services connecting EU ports to each other: These routes are also called «Τhe EU authorized regular services». They include the freight transferred between terminals Inside the customs area and terminals Outside the customs area.
2. Container services being carried out within the European Union and issues that come up regarding the terminals within the customs area, intermodality, freight concentration as well as multimodal corridors.
3. The third pillar of this project concerns the short sea services (SSS) that connect EU ports with other intermediate ports outside the European Community area. We also want to measure the impact of the new customs security amendment (January 1st 2011).
2. B2MOS
Β2MOS stands for "Business to Motorways of Sea". It is a global project which aims to provide a suitable array of measures for ports, in order to become more efficient gateways, especially for short sea shipping. To compete on more door-to-door corridors and facilitate the development of TEN-T Motorways of the Sea network connecting Europe, B2MOS project is vital.
The revised policy guidelines regarding the Trans-European Transport Network (the TEN-T Guidelines), proposes a new plan for the TEN-T development, at two levels. The first level constituted by a larger, basic network, called the "comprehensive network". This network includes the relevant existing and planned infrastructure in Member States and its outline is the result of the updating adjustment of the existing TEN-T map. The second level, the "core network", it was identified based on a specially designed European methodology. It consists of the strategically most important parts of the TEN-T.
Global Maritime Enterprises Ltd committed towards the establishment of a European maritime space without borders.
3. GREEN C PORTS
The GREEN C Ports Action will pilot the use of sensors, big data platforms, business intelligence tools and artificial intelligence modelling at the ports of Valencia, Venice, Piraeus, Wilhelmshaven and Bremerhaven, contributing this way to the future roll out of these technologies in the market.
The first phase of the project will comprise the design, acquisition, engineering adaptation and installation of the different sensor networks at the participant ports. These sensor networks will gather environmental data of different types (e.g. air quality parameters, meteorological information, noise, congestion at gates, among other), transmitting it to a Port Environmental Performance (PEP) IT platform that will be programmed to receive real time data from the sensor networks and from existing operating systems in the port (i.e. PCS, PMIS and TOS).
The second phase of the project will start once the installation of the necessary equipment to build the required environmental sensor network is completed. At this stage, partners of the GREEN C Ports project will develop methods and analytics following big data techniques and advanced modelling, which will allow predictive analyses of ports' environmental performance. By analysing the data gathered from the sensor networks together with existing information supplied by different port authorities and community systems, it will be possible to build models and advanced algorithms to predict in real time the impact of the environmental conditions over port operations (ship loading/unloading, port congestion, traffic management, etc.) and also over nearby city areas in terms of air quality, noise and other relevant parameters."